Náutica & Yates Magazine - Spain - Axopar 37 MY20 range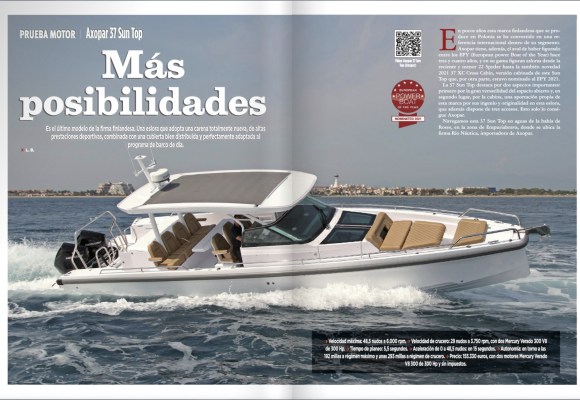 Reviewed: Axopar 37 MY20 range – (Náutica & Yates April-May 2021).
What they loved: "One of Axopar's strengths is that it proposes numerous solutions in the deck layout, making it surely the most versatile boat of this length on the market in this regard.", "Undoubtedly one of the points that we like the most about the Axopar is its helm, both for its ergonomics and its design. And in this boat these qualities are fulfilled: comfort and elegance within its personal sporty style.", "In tight turns this hull grips like a roller coaster curve at full speed, while transmitting the best sensations of safety.", "The boat improved with respect to the previous models, it cruises better and incorporates more and better details. Very adapted to the Mediterranean."
READ THE FULL ARTICLE HERE. ARTICLE IN SPANISH