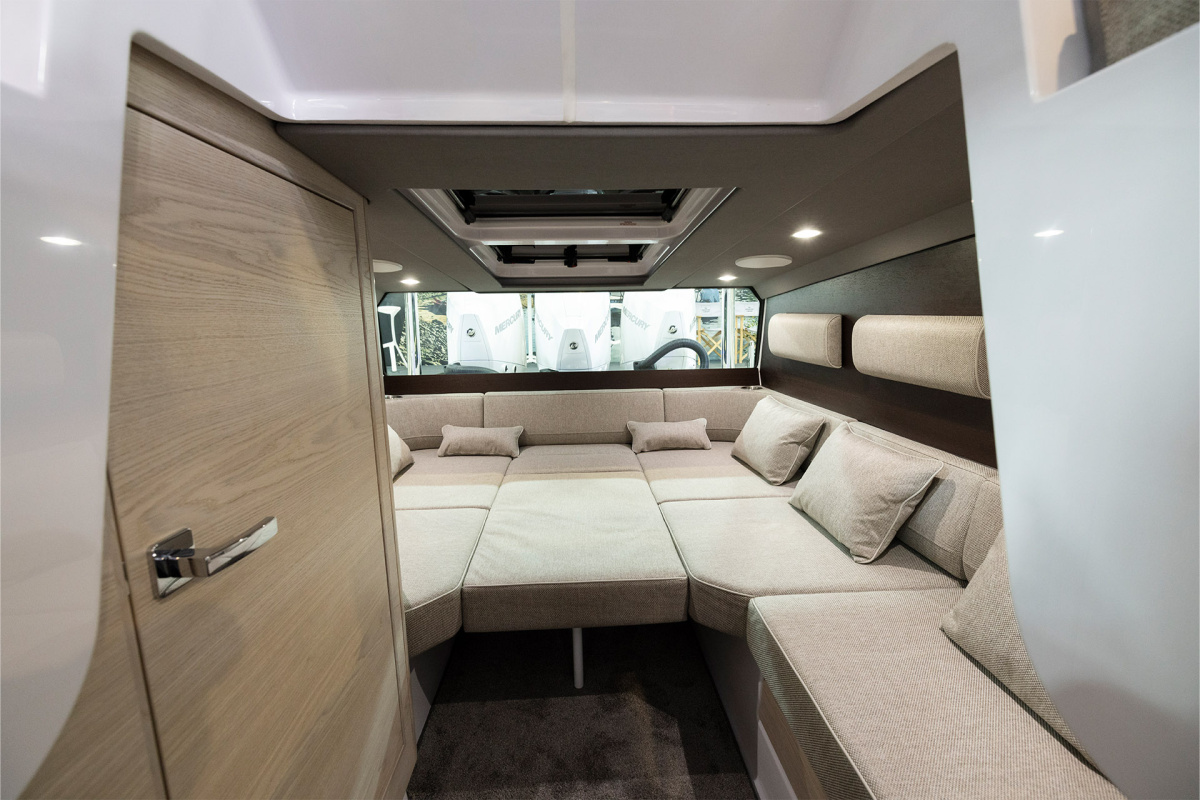 Axopar's creativity for conceptualizing and introducing new innovations continues to grow with the introduction of the spacious new Aft Cabin for the Axopar 45 XC, revealing exciting new functionalities never seen before in this genre of enclosed, all-weather cabin boats.
Since its debut in 2022, the Axopar 45 XC Cross Cabin has been incredibly well received on the market, and we have been overwhelmed by the market's response and positive reaction to this unique model range, now strengthened even further by the introduction of the Aft Cabin option.
New on-board experiences
Axopar has added even more features to what is already considered to be one of the most innovative cabin boats on the market. The innovative Aft Cabin – already one of our most popular options on the Axopar 37 and 28 ranges – is now also available on the biggest adventurer in the fleet, bigger and more multifunctional than ever before.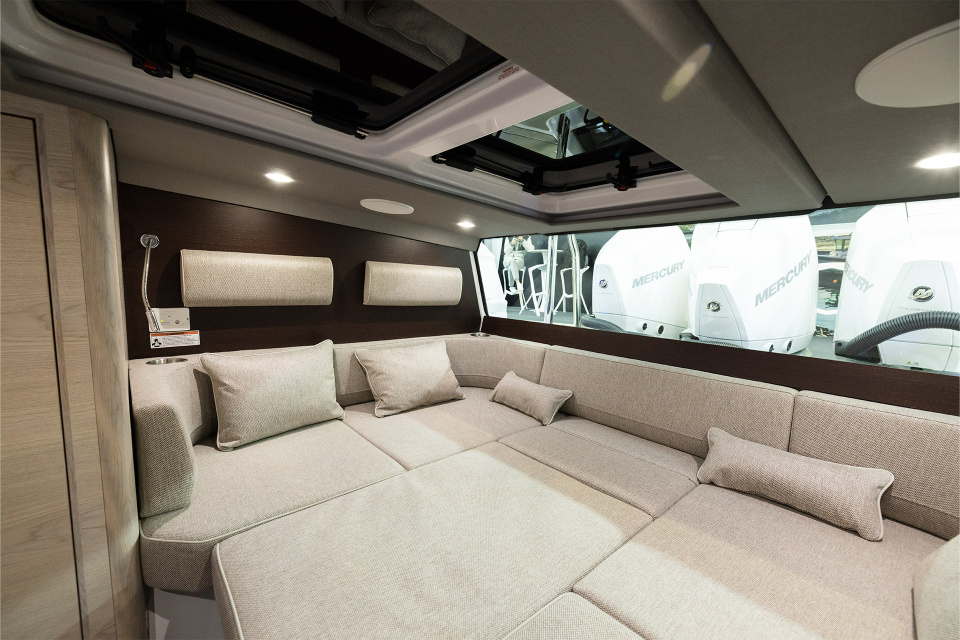 The Aft Cabin has a spacious, sophisticated, and comfortable lounge area with expandable twin beds for overnight stays and a wardrobe for storage. With infill cushions, the two generous lounge seating spaces can be easily converted into a huge queen-size bed.
The wardrobe can also be upgraded into an optional small-sized toilet compartment.
The ultra-large panoramic window facing aft allows for much light inside the cabin and beautiful sceneries toward the sea and the engines. In addition, and for even more light inside, there are two large skylights, both of which have mosquito nets and black-out screens and both will ensure the fresh flow of air throughout the entire space. Perfect for those wishing to venture further and stay onboard longer.
The innovative Axopar 45 range is not your typical recreational series and is unlike anything else previously launched by our company, or our competitors.
With its new multifunctional and modular concept, the Axopar 45 range sets new standards for fast and comfortable commuting – it's the world's first outboard-powered fully enclosable walk-around cabin boat in its size.
Axopar is committed to creating the most fuel-efficient boats on the market, and the 45 range, with its ultra-efficient hull and triple outboard engines (with a twin-engine option in the future), is a perfect case in point.
Even with triple 300 hp engines, the 45 is more fuel-efficient at its wide cruising speed range of between 20-35 knots, than many of our competitor's smaller boat models, where even more power or more engines are required just to match the speed and performance of the Axopar 45.
Exactly what do we mean by "Rightsizing?"
People are even more cost-conscious than ever before. We believe that purchasing decisions in the future will be heavily based on economic factors like pricing, second-hand value, fuel economy, and running and maintenance costs. This is why it's become increasingly important that we keep fighting against price increases caused by inflation and market conditions. That we keep innovating for more efficient assembly, industrialization, and modularization of our production processes, in order for our customers to "rightsize" their boats, and to ensure their buying decisions are moderated by choosing only the options that are deemed really necessary for their own everyday adventures.
Axopar's offering of boats with great value for money, market-leading fuel efficiency, lower servicing costs, and one of the strongest secondhand values on the market, have been driving forces behind the company's success since day one.
Once the range is fully launched, this new 'flagship' series will comprise five different models, that will undoubtedly attract boating enthusiasts seeking to 'rightsize' with one of the most economical 45-footers on the market. Powered by triple Mercury V8 300 Verado engines, the Axopar 45 can cruise economically at any speed between 20 and 35 knots with a top speed of 45+ knots. For more information about the Axopar 45 XC Cross Cabin, please visit: Axopar 45 XC Cross cabin product page
Axopar 45 range highlights
Axopar 45 is the company's most extensive model fleet to date and will be available in 5 versions:
Axopar 45 Spyder (S)
Axopar 45 T-Top (TT)
Axopar 45 Sun-Top (ST)
Axopar 45 Cross Top (CT)
Axopar 45 XC Cross Cabin (XC)