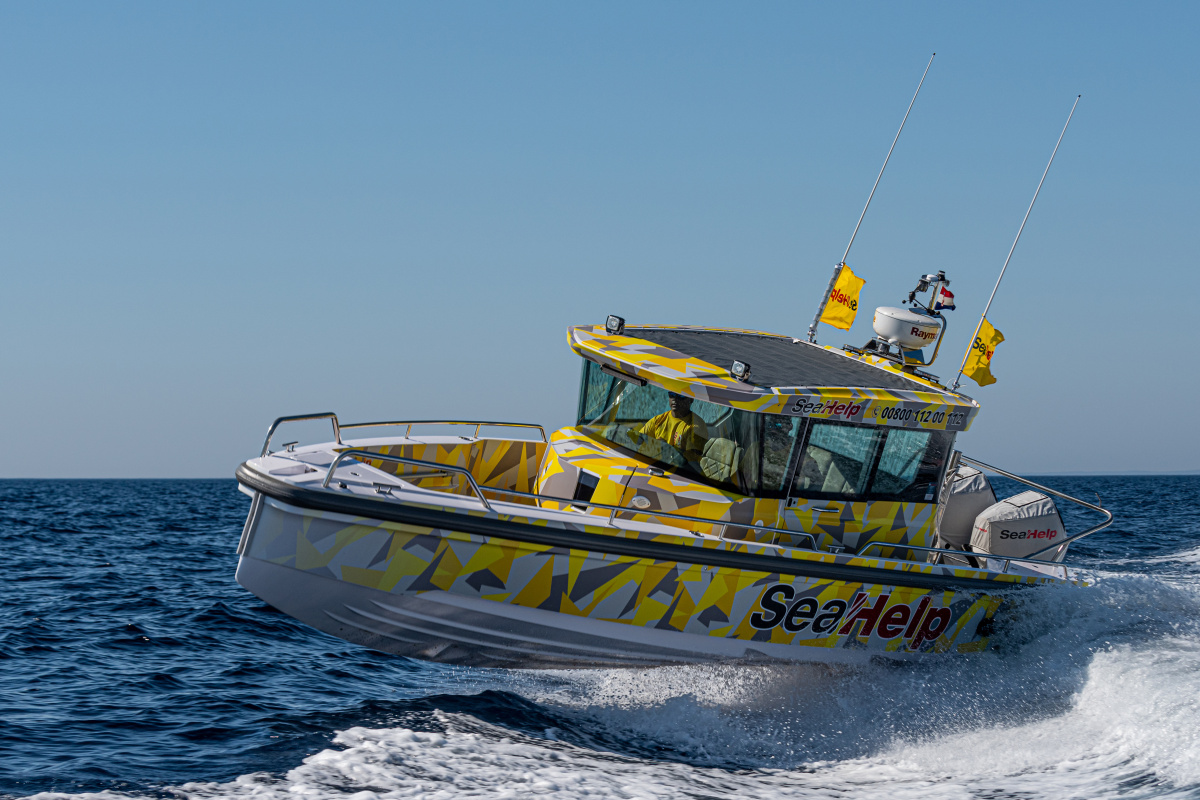 From boaters who've run out of fuel to skippers who've hit a rock, thousands of water enthusiasts find themselves in tricky situations annually. It's a good thing then that SeaHelp, Europe's largest rescue service for members and non-members, offers skippers round-the-clock support. Comparable to a traditional roadside breakdown service, SeaHelp helps those on the water in need, 24 hours a day, seven days a week.
As an all-inclusive service provider, SeaHelp offers more than just expert technical assistance. The company boasts an extensive nautical network, and its locations and multilingual employees ensure smooth communication with authorities or companies all over Europe. From towing and starting assistance to fuel or spare parts deliveries, SeaHelp's jack-of-all-trades can take on any challenge, no matter the size or complexity.

We spoke to SeaHelp's MD, Wolfgang Dauser, as he took time off from his busy schedule to discuss the company. We covered everything from the service's hectic summers to how a friendly wave brought Dauser to test and purchase Axopar boats.



"Our phones don't stop ringing during the [summer] season," starts Dauser. Europe's largest breakdown service has 31 bases, including everything from Italy's Lake Garda to Mallorca's Cala d'Or. Dauser illustrates how busy the service is in summer by recalling last year's numbers. "Our helpline received over 25,000 calls, our employees provided help around 4,000 times, and we dispatched an emergency team on more than 2,500 occasions." The numbers are impressive and clearly show why Dauser founded SeaHelp, the first breakdown service of its kind, in 2005.
Dauser says that up to 200 employees work for SeaHelp in summer, the company's busiest time. It figures. With its ever-increasing number of bases and annual operations, the service requires an army of professionals who are prepared and ready to spring into action.



The service's rescue boats or "Yellow Angels on the Water" need to serve as "pure pack animals," says Dauser. He elaborates that SeaHelp needs boats with enough locker space for all their equipment, including suction pumps, spare parts, recovery balloons, dive equipment, and much more. "Being able to accommodate all of this on the Axopar 28," Dauser explains, "was just one reason we chose the model to serve as our new rescue boats."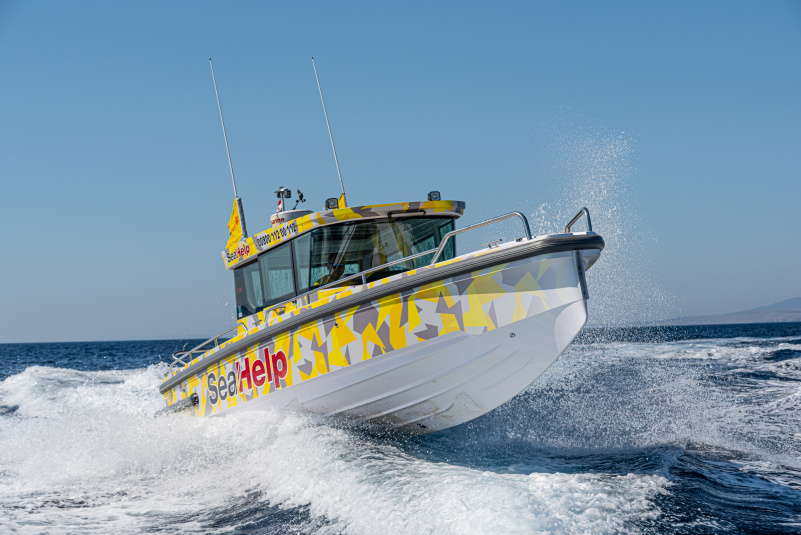 An interesting story is one of the first times Dauser saw an Axopar 28. He recalls:
"In the summer of 2021, I took my boat from Solta to Hvar [Croatia]. The weather was bad, and the waves were about 1.5 meters high. It was under these conditions that an Axopar 28 Cabin overtook us. I was impressed with the boat's stability and the skipper's relaxed manner. After the driver gave us a friendly wave from the cabin, I used my binoculars to see the boat's make. A month later, I was in Grado, Italy, testing an Axopar 28, and was instantly captivated."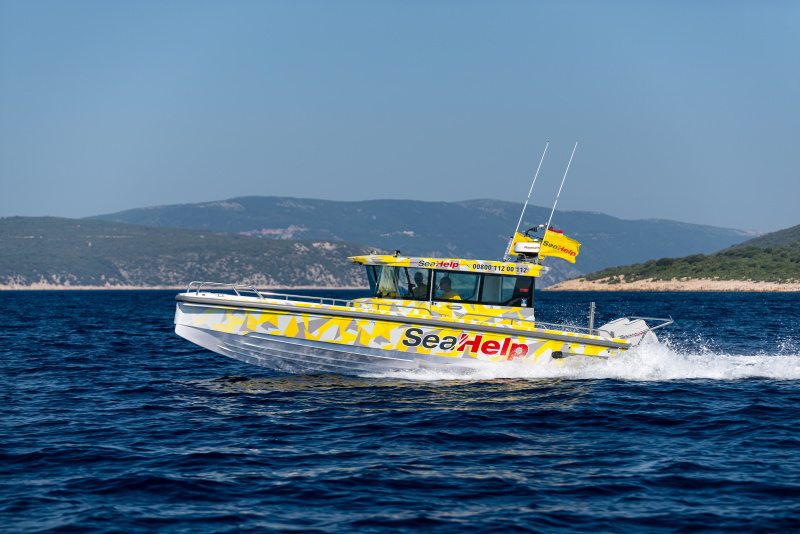 An excellent feature for Dauser and his team is that the Axopar 28 can reach speeds of 90 km/h. "This significantly reduces the waiting time for SeaHelp members and non-members in need of support."
Aside from the boats' fast and furious speeds, Dauser is also impressed with the 28s safety features. "A spacious cabin protects rescue workers and passengers from the elements, and the handholds guarantee safe movement onboard."

He adds, "There is plenty of room for our rescue workers to do their jobs and move around the boat safely thanks to the spacious configuration and walk-around deck layout."
Another thing Dauser waxes lyrical about is the Axopar28s' performance. "The twin stepped hull, with a low center of gravity and deep V configuration, ensures directional stability and good grip when cornering. [This is] especially important when waves and wind make navigation difficult, as is often the case on our missions."



Dauser advises those keen to use their boats this summer to take sufficient time to prepare for their trips. He also recommends skippers involve fellow sailors and family members in the arrangements. On that note, Dauser mentions that SeaHelp's homepage sea-help.eu features extensive information on how to prepare for a cruise.

The site's blog 'This & That' is a general outlet that talks about boating culture and reveals handy nautical lifehacks.
Then, there is also the SeaHelp app. Although the app was devised to transmit SOS signals, it also helps skippers with contact details, tidal info, GPS data, and weather warnings, to name but a few. The app has no less than 30,000 plus users in the regions supported by SeaHelp, and with good reason. The company's help, and the team's wealth of experience and expertise, are just two phone clicks away. But that's not all. The app transmits the user's coordinates directly to the company's operations center in Punat, Croatia. This means not a second is wasted and that there is no delay in the dispatch of a fast rescue boat.
Another way that SeaHelp can help boat owners and businesses related to boating is by providing peace of mind. Private and business customers, like charter companies and marinas, can take out insurance with SeaHelp. Whether to remove the scuff marks on the side of the hull or fix the damage after a collision at sea, the company has its clients, quite literally, covered.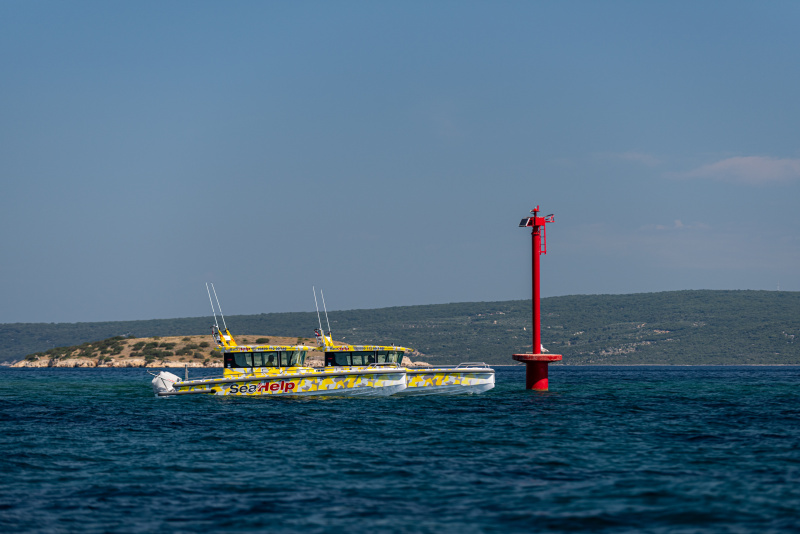 One of the new Axopar 28s will serve SeaHelp's second base on Rab, an island off Croatia's west coast. According to Dauser, the new service point is expected to see many rescue operations due to its many shallows, treacherous cliffs, and fast-moving thunderstorms. Another Axopar boat will support the organization's work from Rogač, a Croatian port village and another challenging area for recreational boaters.

Both bases are popular yet tricky cruising grounds and perfect places for the Axopar 28s to start their exciting, new chapters in life.
You might also be interested in these articles from SeaHelp:
SeaHelp – Two new response boats for the Yellow Angels on the water
SeaHelp - New base on Rab with new emergency boat from Axopar