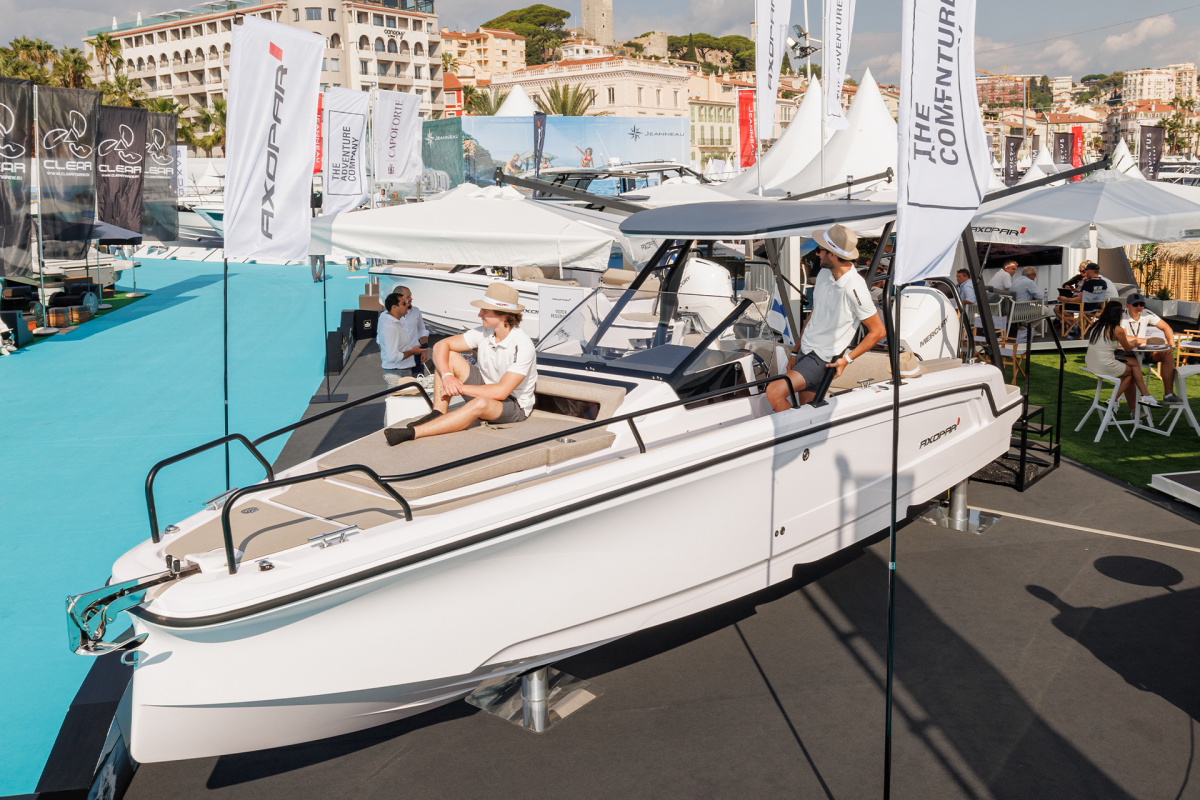 Cannes, 12.09.2023 – Axopar's mission for a perfect day out starts from the very basics, with the philosophy that a boat of any size needs to deliver an exceptional driving experience and intuitive handling in ever-changing all-day conditions, whether in sheltered inland waters or open shores.
The unmatched drivability and all-day functionality of the Axopar 22 and 25 range have been well-recognized in the boating world, and we've been listening closely to our customers on how they want to improve their onboard experience. Their No 1 request was to enhance onboard comfort at anchor, especially at Mediterranean locations and in warmer regions of the world where sunbathing and spending time on board is a big part of their adventures at sea.
Today, we announce that the highly successful optional Mediterrana Edition from the Axopar 37 range is now also extended to the entire Axopar 22 and Axopar 25 range of boats.
Truly offering the best of two worlds - comfort and ride!
Introducing elegance and sociability on the Axopar 22 Mediterrana and Axopar 25 Mediterrana – the new edition that reinforces the art of relaxing and socializing on the water. Building upon the success of our 22s and 25s, the optional Mediterrana Edition takes the joy of sun-soaked lounging to new heights, fully embracing the essence of Mediterranean living without compromising their well-renowned seakeeping and drivability.
Our smallest models are true driver's boats, exciting and fun to drive, hard to match in terms of handling and performance, seaworthiness, safety, and comfort onboard, combined with a myriad of functionalities, options, and alternative layouts - all intended to suit a wide range of customers and their specific needs. Ideal also for customers new to boating, easy to get "into," predictable, yet equally thrilling to drive for experienced boaters.
Transformative features
With the Mediterrana package we want to enhance comfort and appearance, whilst utilizing the layout of the boats to the maximum, adding a new dimension of usability for day cruising endeavors.
Two of the standout features onboard are the ability to transform the optional multi-storage and u-sofa configurations into full sun-lounging areas. This clever design converts the entire aft deck into a large sunbed with plush removable backrests for added comfort. The driver and co-driver seats can be rotated to face the aft, creating an expanded hangout or dining area.
The 22 range comes with a table and two wider seats with backrests on the front deck. Additional removable handrail cushions on each side of the boat serve as ideal spots for leaning or sitting and feature built-in cupholders. On the 25' range, the plush front lounge sunpads are also wrapped in the stylish, durable, and weatherproof Mediterrana fabric that keeps cool even in hot temperatures.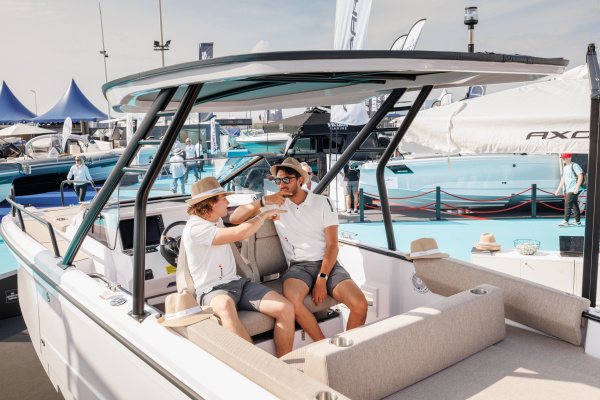 What is included in the Mediterrana Edition package?
Axopar 22 range
- Outdoor weatherproof fabric, Mediterrana
- Sofa cushions and seating with enhanced comfort
- Extended fore deck seating with handrail cushions
- Table for front / aft deck
- Sundeck for multi-storage module incl. handrail cushions and cushions
- Sundeck for U-sofa, including infill cushion
- Harbor covers
Axopar 25 range
- Outdoor waterproof fabric, Mediterrana
- Sofa cushions and seating with enhanced comfort
- Sundeck cushion for fore deck
- Table for aft deck (only with U-sofa)
- Sundeck for multi-storage, including handrail cushions and infill cushions
- Sundeck for U-sofa, including infill cushion
- Harbor covers
Mediterrana soft deck flooring
Further enhancing comfort and aesthetics on the Mediterrana Edition, you can also add an optional light deck flooring that is not only soft and pleasant when walking barefoot when you just came from a relaxing swim or while you are lounging onboard enjoying the day, but also finalizes the Mediterranean spirit in terms of style and atmosphere, available for both models ranges.
Availability
The Mediterrana Edition is available from now onwards as a factory option for all Axopar 22 and 25 ranges.
Existing owners of the Axopar 22 and 25 range can also choose to retrofit this option, please consult your nearest Axopar dealer for availability and pricing.
Pricing
Options for Axopar 22:


| | |
| --- | --- |
| Mediterrana Edition, with Multistorage | 4 290€ |
| Mediterrana Edition, with U-Sofa | 3 990€ |
| Mediterrana soft deck flooring | 2 690€ |
Options for Axopar 25:


| | |
| --- | --- |
| Mediterrana Edition, with Multistorage | 3 890€ |
| Mediterrana Edition, with U-Sofa | 3 990€ |
| Mediterrana soft deck flooring | 2 880€ |