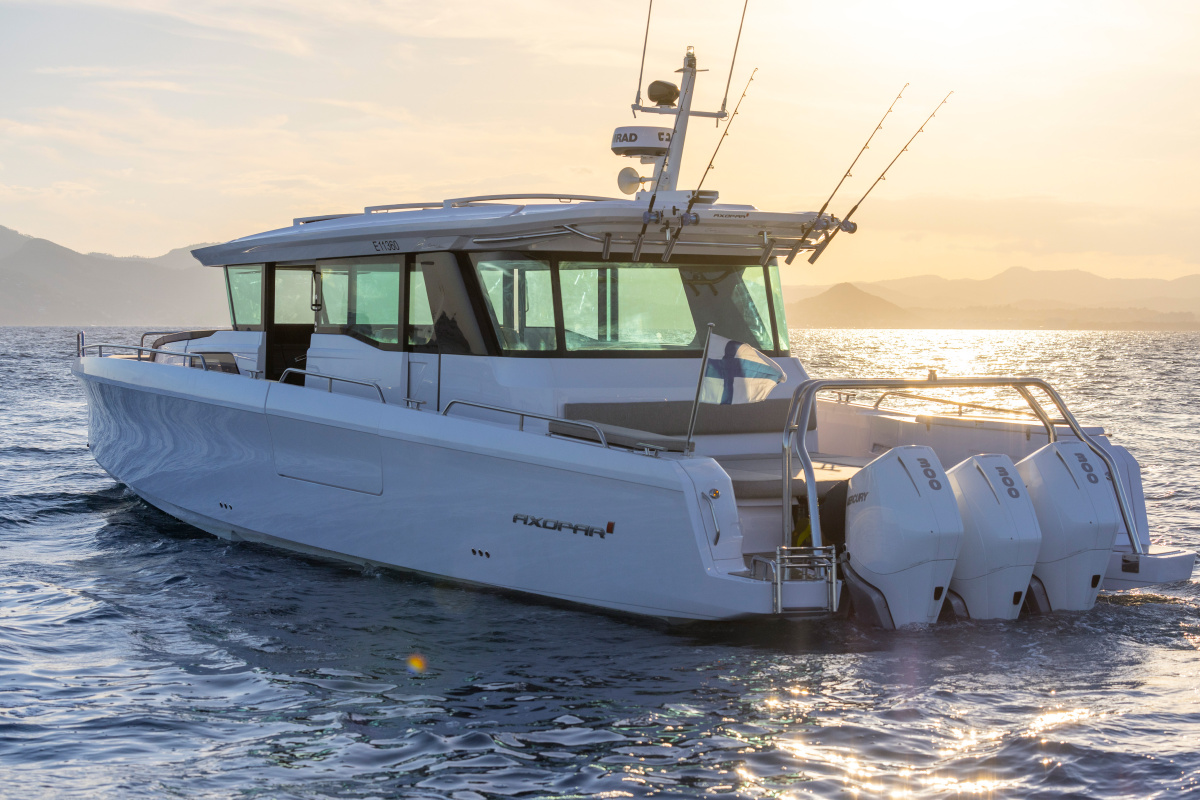 (06.09.2022) Axopar's creativity for conceptualizing and introducing new innovations continues to grow with the Axopar 45 XC Cross Cabin, now revealing exciting new functions never seen before in this genre. Since its soft debut this summer, the Axopar 45 XC Cross Cabin has been incredibly well received on the market and over a hundred boats are already on order. Our entire team is overwhelmed by the market's response to this unique model range, offering a concept that boaters have been waiting for.
The innovative Axopar 45 range is not your typical recreational boat series and is unlike anything previously launched by the company or its competitors. With its new multifunctional and modular concept, the Axopar 45 sets a new standard for fast and comfortable commuting ­– it's the world's first outboard-powered fully enclosable walk-around cabin boat in its size. Axopar is committed to creating the most fuel-efficient boats on the market, and the 45 range, with its ultra-efficient hull and triple outboard engines, is a case in point. With triple engines at the back, the 45 is more fuel-efficient at cruising speed than many of our competitor's smaller boat models.
"Over the years, we have proven that Axopar is able to disrupt the industry by building boats that stand out through their price point, looks, drivability and best in class fuel efficiency. Our team has raised the bar once again with the new Axopar 45 range keeping the agility and flick ability sensation close to its siblings, which is set to take the motorboat market by storm," said Jan-Erik Viitala, founding partner of Axopar Boats.
Rightsizing
People today are more cost aware than ever. We believe purchasing decisions in the future will be heavily based on economic factors, like pricing, secondhand value, fuel economy, and running and maintenance costs. This is why Axopar's rightsizing concept, based on the company's founding principles, aligns so well with customers today and in the future.
Axopar's offering of boats with great value for money, impressive fuel efficiency, low servicing costs, and strong secondhand value, is the driving force behind the company's success.
This new flagship series will comprise up to five different models once launched and will undoubtedly attract boating enthusiasts seeking to rightsize. Boasting a yacht's luxuries and handling without the price tag, depreciation, or maintenance commitment, the Axopar 45 is an excellent alternative to a bigger and more expensive yacht. The best part? The boat is one of the most economical 45-footers on the market. Powered by triple Mercury V8 300 Verado engines, the Axopar 45 can cruise economically at any speed between 20 and 35 knots with a top speed of 45+ knots.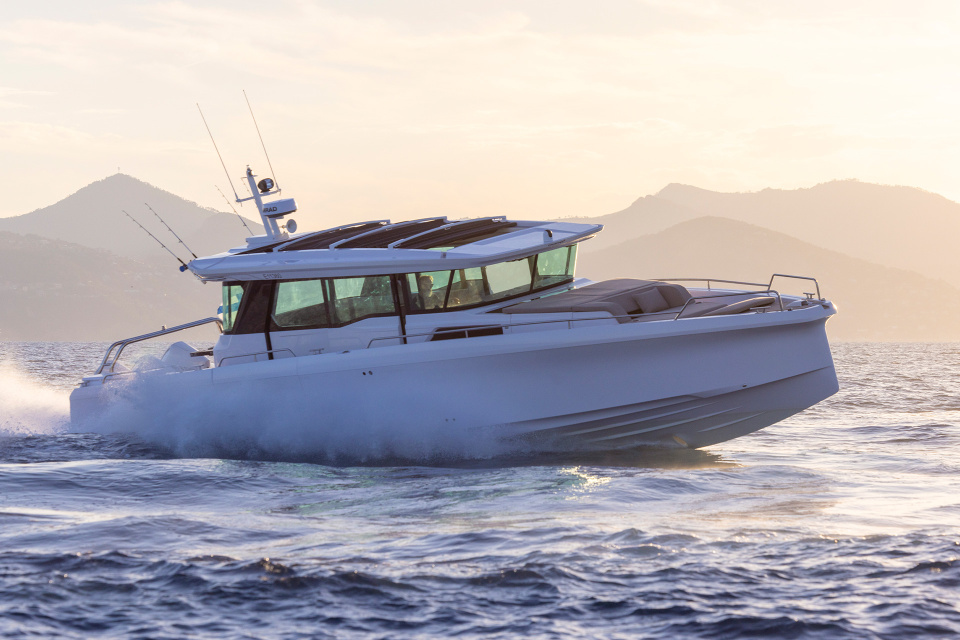 New onboard experiences
Axopar, committed to elevating customers' onboard experiences, has added even more innovative features to what is already considered to be one of the most innovative boats on the market.
An entirely new innovation is the U-sofa for the aft deck which provides multiple lounging options, functionalities, on-deck storage solutions, and added comfort. Customers who opt for the full-size U-sofa with the adjustable table will enjoy wonderful al fresco dinners in the evenings. Converting the sofa into a king-size sun lounge is as easy as lowering the table and adding an extra cushion to it. But that's not all. There is another thrilling innovation that is set to impress the market. Axopar 45 XC Cross Cabin customers can now choose to add an integrated wet bar on the aft deck additional to the standard wet bar in the pilothouse. The integrated wet bar on the starboard side is compatible with all current and future aft deck layouts and brings multifunctionality and maximizes a day out at sea to the fullest.
What are the new options on the Axopar 45?
Clever U-Sofa aft deck layout – The stylish U-sofa layout on the aft deck boasts comfortable seats and headrests for sitting back and relaxing. The standard adjustable table is conducive for lingering lunches in the sun and includes an infill cushion that can transform the U-Sofa into a luxurious full-size sun bed. Compartments under the U-sofa's longitudinal benches and transversal bench provide ample dry storage space with easy access. Combining this with the optional sunshades creates an even cozier atmosphere while being protected from the heat of the sun.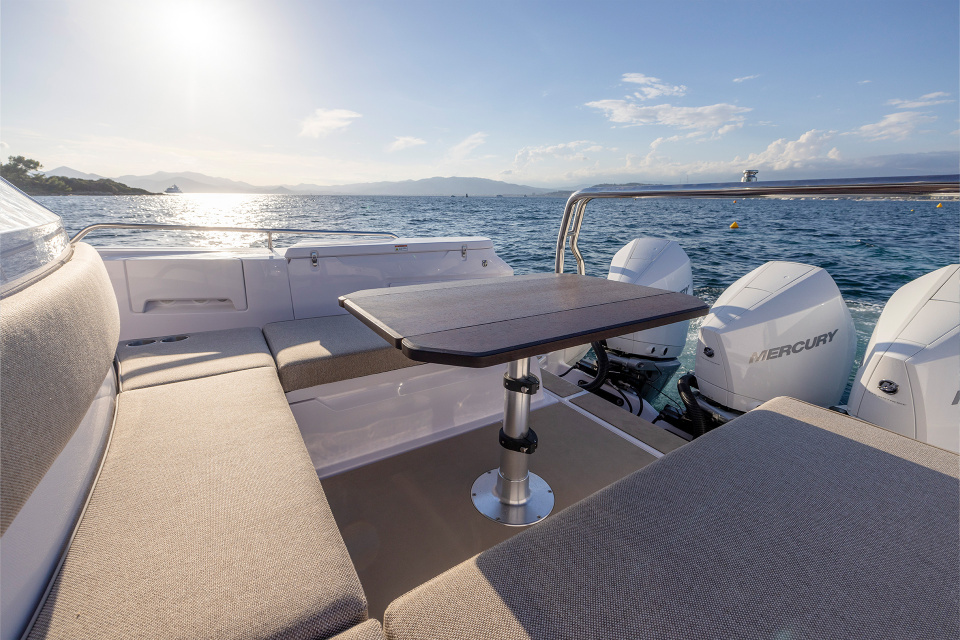 Integrated wet bar – Axopar, fuelled by a passion for innovation, has introduced technical features to enhance the aft deck's usability. The optional integrated starboard fender box's grill run by shore power or optional power bank will make any meal onboard an instant hit and the 40L fridge ensures cold drinks and snacks are an arm's reach away. A sink with a faucet and storage compartment underneath adds further convenience to life on deck.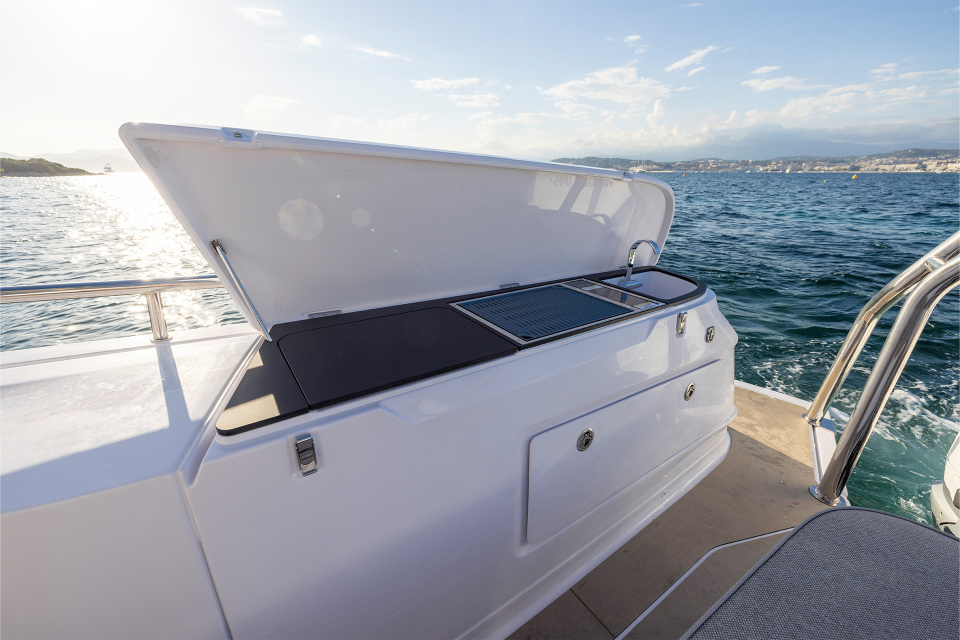 Extended Mediterrana package – For those looking for an even greater extended lounging experience onboard, the extended Mediterrana package will be the ultimate choice. The package includes a foredeck table, plush fender box cushions, and balcony door cushions and takes socializing on board the Axopar 45 to another level.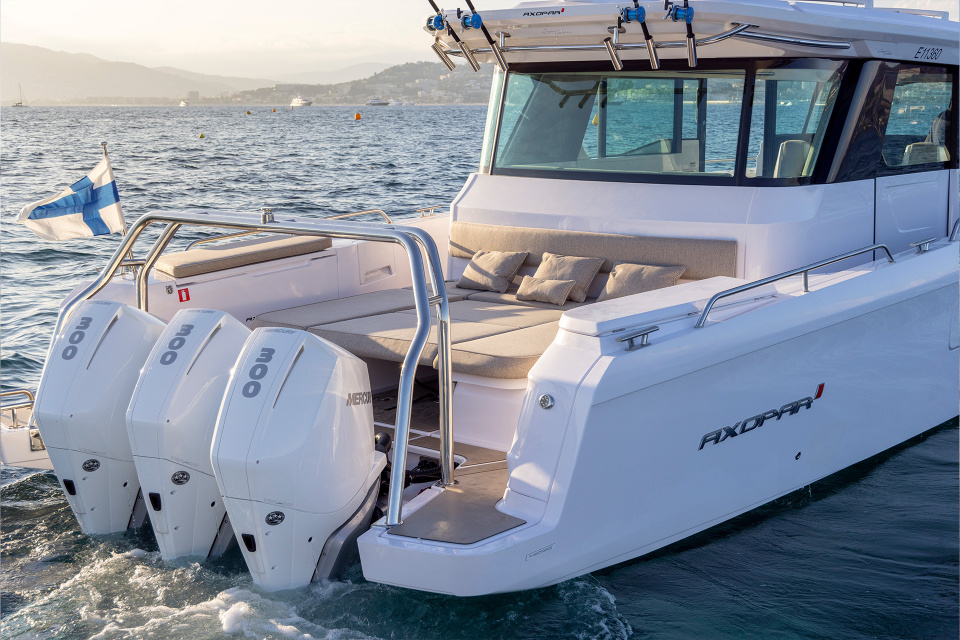 Mediterrana soft decking – Further enhancing comfort and aesthetics on the Mediterrana Edition, you can now also choose a light deck flooring that is not only soft and pleasant when walking barefoot onboard, but it also stays cool in the sun and finalizes the Mediterranean spirit in terms of style and atmosphere.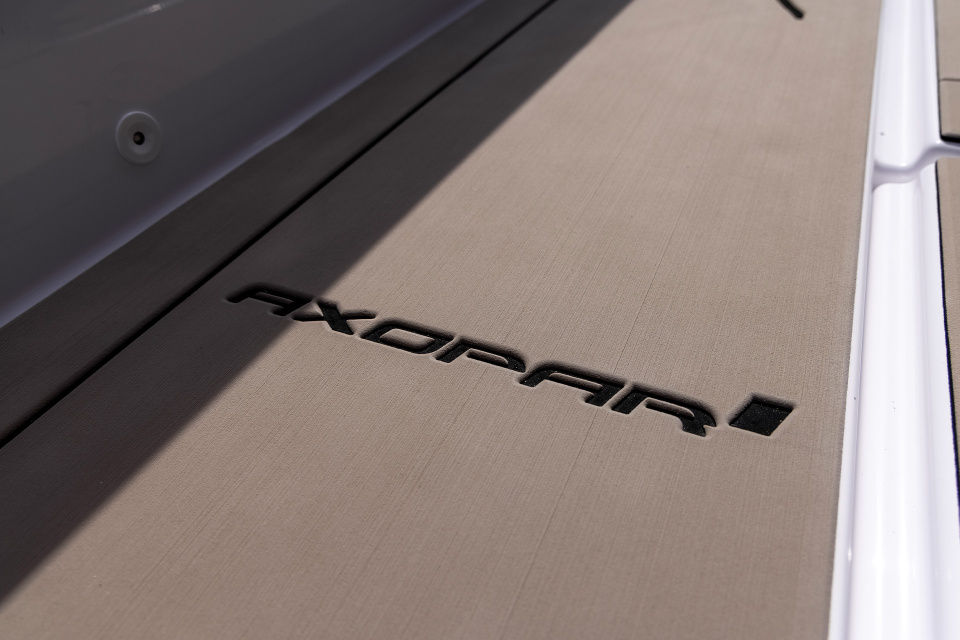 Additional new optional equipment – Axopar's waterski pole with double bars, is available for the Axopar 45 and opens up for new aftermarket storage solutions for the owners. The fishing rod holders are perfect for those keen to cast a line during boat trips with friends or family adventures. Gyro stabilizers offer added stability and comfort and will be part of the Axopar 45 range's future optional features. The wet bar in the pilothouse is available with a cooktop for those who'd like that instead of the grill.
Value points
What can a prospective customer expect from the Axopar 45 range? Below are the key value points of the Axopar 45 that make it stand out from the competitors.
1. One of the most fuel-efficient 45-footers on the market
2. A true driver's boat with a range of cruising speeds that few can compete with
3. Strong value for money
4. One of the most versatile and customizable 45-footers on the market
5. In terms of functionality and usability, it's one of the most innovative boats in its size and price range.
| | |
| --- | --- |
| Overall Length (excl. Engines): | 13,90 m (45 ft 7in) |
| Draft (excl. Engines): | 0,85 m (2ft 10in) |
| Beam: | 4,11 m (13ft 6in) |
| Berths: | 2 persons (+2 w. optional aft cabin |
| Weight (approx. incl engines) | 7000 kg (15433 lbs) |
| Fuel capacity: | 1390 l (368 gal) |
| Construction: | GRP |
| Classification: | B - Offshore / C - Coastal |
| Passengers: | B:14 / C:16 |
| Max speed range: | +45 knots |
| Fuel efficiency: | 20 - 35 knots (~4,5 L/nm |
| Outboard engines: | 3 x 300 hp |
| Fresh water: | 280 l |
Find more images of the Axopar 45 here.
Go to the Axopar 45 XC Cross Cabin product page here.